At Sovereign Cycle we strive to be the best period. We know our gear, bikes and suspension inside and out, the attention to detail in our shop is second to none and our end goal is to leave you with the best in-shop and on-bike experience possible. That's why we only hire the best, most experienced people available. Have a question for the guys? Give us a call: 778 754 5678 or click here for our location and hours.

Rich Stevenson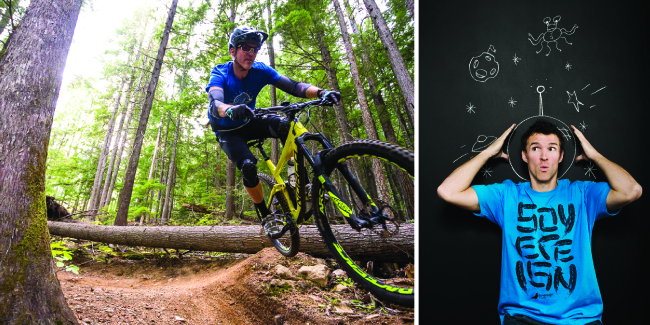 Rich grew up in BC, Saskatchewan and New Zealand so he has a real love for the outdoors. He has an infectious excitement for bikes and getting you set up with the right bike/gear gets him fired up!  He use to be the tallest guy in the shop but now Colin takes the cake. Abby, the shop dog, is usually not far behind when they are both at the shop.
Rich's top local trail: Soul Train>Feel The Love>FOMO - Smith Creek
Rich's top 3 trails in BC: Ditch Chicken>Electric Lettuce - Vedder Mtn. Chiliwack
TNT - Revelstoke
Ravine -Salmon Arm 
Lucas Lozeron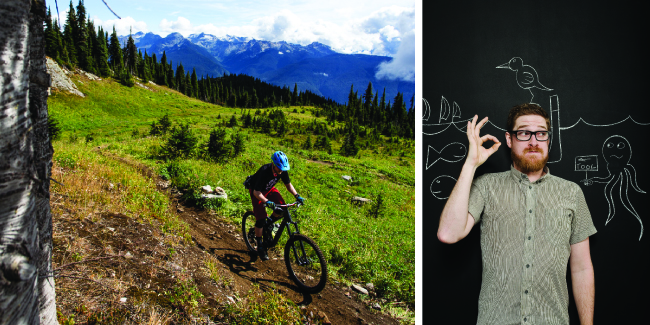 Lucas came to Sovereign via Strathmore, Alberta and he's a bike guy through and through. If you're looking for an expert on bike fit and set-up, he's your man - as a grad of the United Bicycle Institute frame building course in Ashland, Oregon, you can be sure of that. Lucas is also a graduate of the UBI bicycle maintenance course but his learning didn't stop there.  He will pull your reverb apart and build you a new wheel before you had time to finish your morning latte. You'll know him the second you walk in the door either by his devious smile, infectious laugh, his sense of humor that often "takes it too far" or his ginger beard.
Lucas' top local trail: Huck To Flat - Smith Creek
Lucas' top 3 trails in BC: Martha Creek - Martha Creek Revelstoke
Frisby Ridge - Revelstoke
Ladies Only - Mt. Fromme North Vancouver
Dylan Da Silva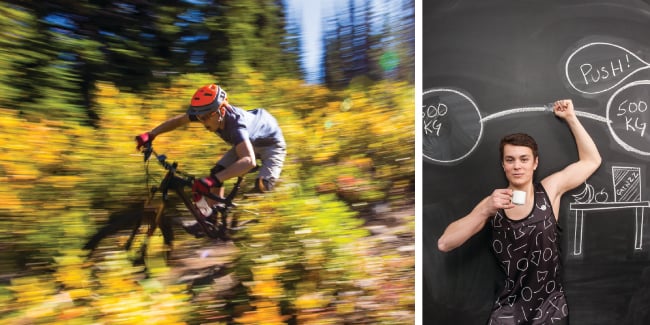 Dylan is the most grown up shop grom you've ever met. He's a West Kelowna boy through and through - if there's another person that's ridden the trails at Smith Creek more than him - we'd be shocked! Want proof? Check his Strava profile KOM's and all. When you visit Sovereign, you can be guaranteed that he'll give you an honest opinion on just about anything, but remember that even though he's younger than you, he probably knows more than you (about bikes).
Dylan's top local trail: Jabbarocky>Rock Candy - Rose Valley
Dylan's top 3 trails in BC: Iron Lotus - Revelstoke
LSD to Canyon Creek - Golden
Sauce on the Side to Baconator - Lumby
All photography provided by Grant Robinson Photography.