At Sovereign Cycle we strive to be the best period. We know our gear, bikes and suspension inside and out, the attention to detail in our shop is second to none and our end goal is to leave you with the best in-shop and on-bike experience possible. That's why we only hire the best, most experienced people available. Have a question for the guys? Give us a call: 778 754 5678 or click here for our location and hours.

Abby (the shop dog)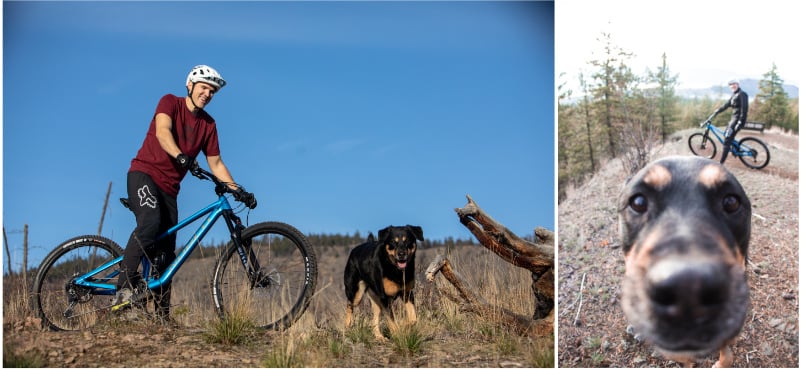 Abby just tuned 12yrs old but you wouldn't guess it if you saw her in person.  She always makes you feel welcome when you come into the store and appreciates a good scratching under her collar.  Abby is Sovereign Cycle's longest working "employee" and she really knows the ropes.  Take her for a trail ride and she will probably beat you down the mountain by taking her version of the "fastest route".
Rich Stevenson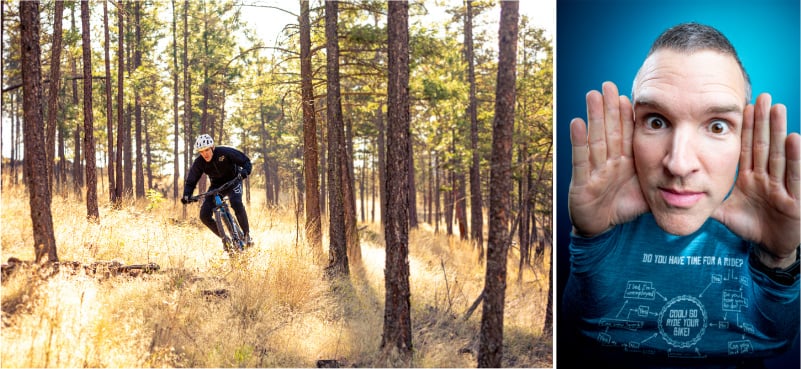 Rich grew up in BC, Saskatchewan and New Zealand so he has a real love for the outdoors. He has an infectious excitement for bikes and getting you set up with the right bike/gear gets him fired up!  He use to be the tallest guy in the shop but now Colin takes the cake. Abby, the shop dog, is usually not far behind when they are both at the shop.
Rich's top local trail: Soul Train>Feel The Love>FOMO - Smith Creek
Rich's top 3 trails in BC: Ditch Chicken>Electric Lettuce - Vedder Mtn. Chiliwack
TNT - Revelstoke
Ravine -Salmon Arm 
Lucas Lozeron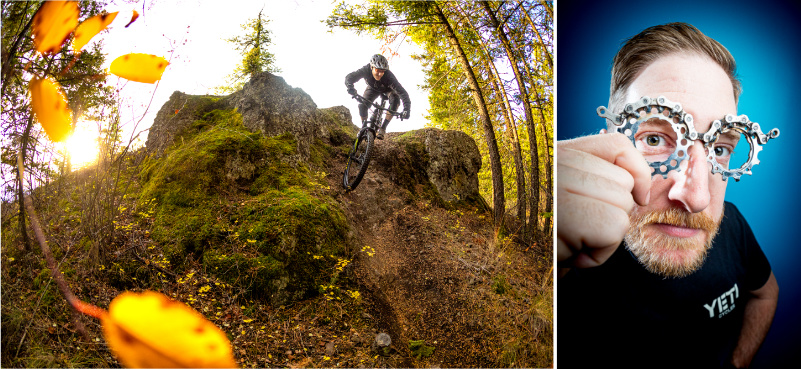 Lucas came to Sovereign via Strathmore, Alberta and he's a bike guy through and through. If you're looking for an expert on bike fit and set-up, he's your man - as a grad of the United Bicycle Institute frame building course in Ashland, Oregon, you can be sure of that. Lucas is also a graduate of the UBI bicycle maintenance course but his learning didn't stop there.  He will pull your reverb apart and build you a new wheel before you had time to finish your morning latte. You'll know him the second you walk in the door either by his devious smile, infectious laugh, his sense of humor that often "takes it too far" or his ginger beard.
Lucas' top local trail: Huck To Flat - Smith Creek
Lucas' top 3 trails in BC: Martha Creek - Martha Creek Revelstoke
Frisby Ridge - Revelstoke
Ladies Only - Mt. Fromme North Vancouver
Dylan Da Silva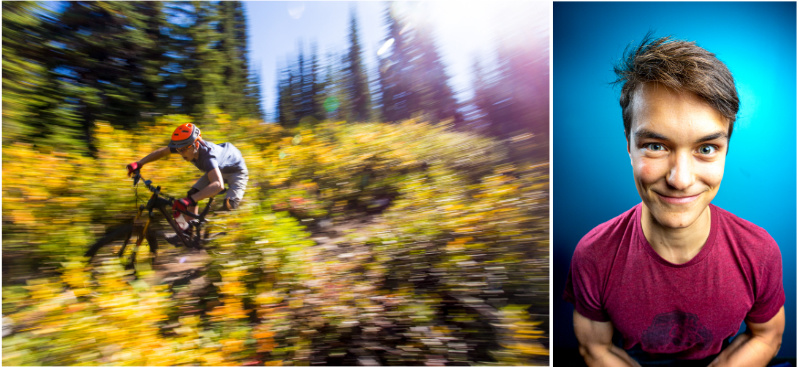 Dylan is a fitness buff.  If he isn't out riding his bike, he is probably at the gym or out for a run. He's a West Kelowna boy through and through - if there's another person that's ridden the trails at Smith Creek more than him - we'd be shocked! Want proof? Check his Strava profile KOM's and all. When you visit Sovereign, you can be guaranteed that he'll give you an honest opinion on just about anything, but remember that even though he's younger than you, he probably knows more than you (about bikes).
Dylan's top local trail: Jabbarocky>Rock Candy - Rose Valley
Dylan's top 3 trails in BC: Iron Lotus - Revelstoke
LSD to Canyon Creek - Golden
Sauce on the Side to Baconator - Lumby
Josh Enns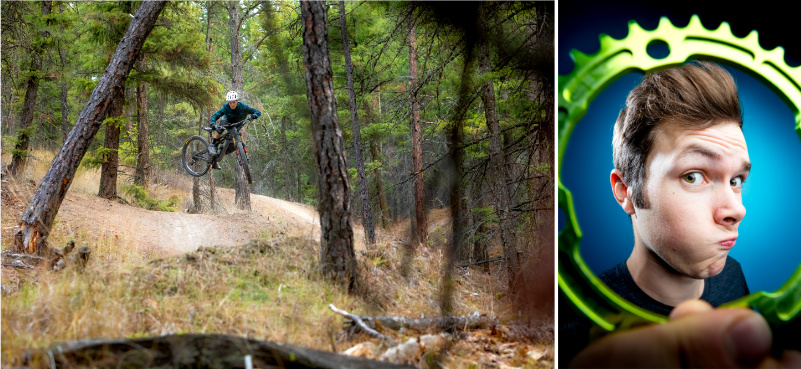 Josh was raised in Penticton and has an eye for building the perfect bike...just take a look at his!  If you don't find him ripping up the trails in West Kelowna, you will probably find him racing down in Oliver at Area 27 with his dad.  If you need directions on amazing trails in the valley, he is your man! Just know that you will be in for a hootin and hollerin good time if he takes you out!
Josh's top local trail: Vapour in Crawford - Kelowna
Josh's top 3 trails in BC: Marth Creek DH -Revelstoke
Sidewinder to Rusty Muffler to Drops-a-lot - Penticton
FOMO - West Kelowna
Colin Booth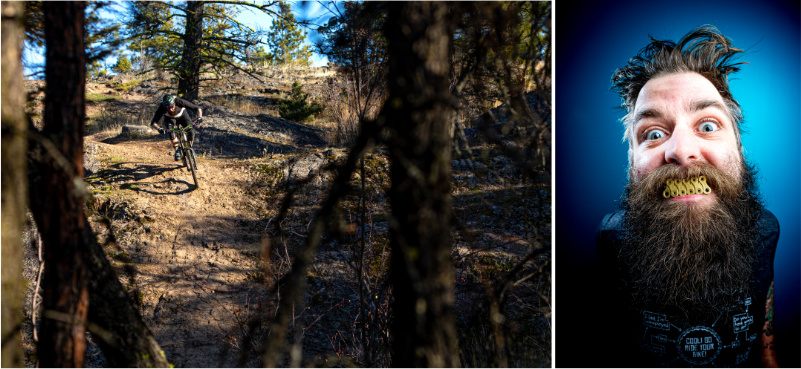 Colin is a bit of a unicorn...he grew up in Kelowna and has watched the valley grow for over 30 years!  He is a pretty hard guy to forget...from his fantastic beard to his infectious personality, Colin will make sure you are treated the way you have always wanted!  Ask him about pretty much any technology in the bike industry and get ready for a wealth of knowledge to come out of his mouth.  If you come into the store and hear heavy metal playing...it's probably because Colin has chosen the playlist.
Colin's top local trail: Cats Ass - Kelowna
Colin's top 3 BC trails: Crinkum Crankum - Mt. Fromme
Vapour - Kelowna
Devils Club - Whistler
Jonah Robinson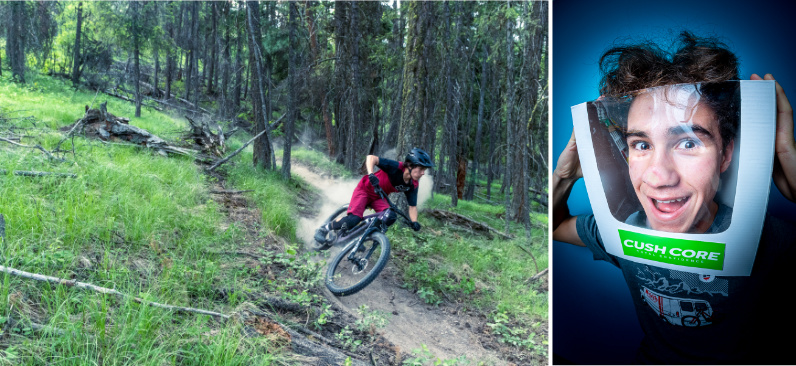 You will recognise Jonah from his English accent. Jonah started riding in the Surrey Hills but now rides the trails of the Okanagan. If you ever need help finding what's new in-store or advice about the trails on our doorstep, Jonah will be happy to help. When he's not out on his bike you will find him with a cup of tea in hand!
Jonah's Top Local Trail: Route 66 - Powers Creek
Jonah's Top 3 Trails in BC:
Black Forest Ham - Vedder Mtn, Chilliwack
Powerslave - Nelson
Blind Samurai - Crawford
Gareth Williams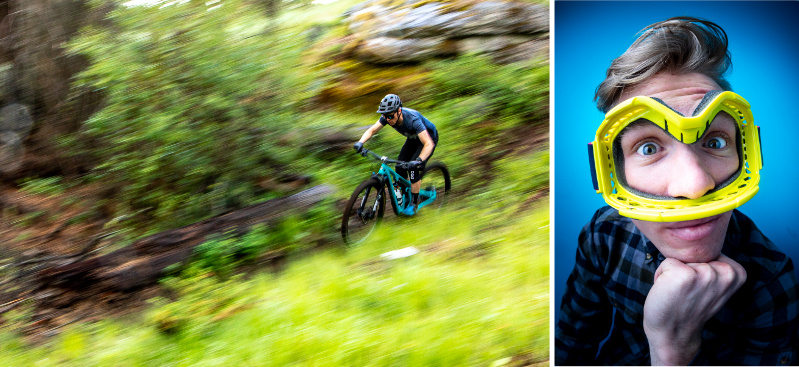 As you can see by Gareth's profile pic, he is a total pretty boy, but dont let his dashing good looks fool you...this guy can shred a bike!  In the summer he stays busy doing almost every action sport on the ticket and in the winter, you can give it your best shot but you probably won't be able to keep up with him on the planks.  When he isn't riding or cross country skiing, you can be sure to find him making the best espresso you have ever tasted!
All photography provided by Grant Robinson Photography.