At Sovereign Cycle we strive to be the best period. We know our gear, bikes and suspension inside and out, the attention to detail in our shop is second to none and our end goal is to leave you with the best in-shop and on-bike experience possible. That's why we only hire the best, most experienced people available.
Richard Stevenson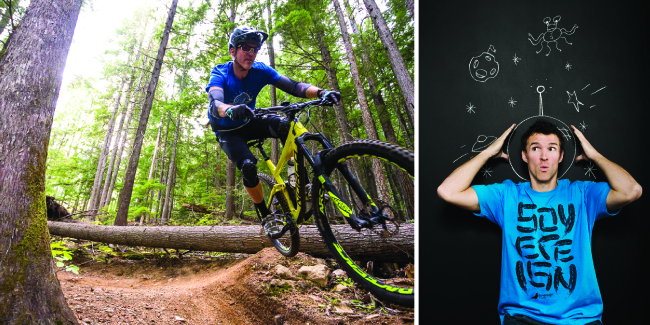 Richard hails from the South Island of New Zealand - although you'd never know it from the lack of accent and yes he's a bike/fitness nut. When he's not riding bikes you'll probably find him on the beach playing volleyball or hanging with his four legged bud Abby. Rich has an attention to detail on bike repairs that you won't find in any other shop and a knowledge of bikes to match.
Rich's top local trail: Smith Creek-Soul Train-Feel The Love-Sons of Anarchy - Smith Creek
Rich's top 3 trails in BC: Ditch Chicken-Electric Lettuce - Vedder Mtn. Chiliwack
TNT - Revelstoke
Balmoral - Blind Bay
Russ Morton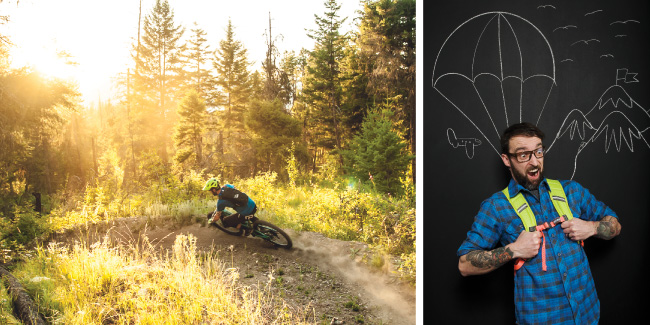 Russ grew up mountain biking on Vancouver Island and has spent his life since then searching Western Canada and abroad for the perfect trail. When he's not wrenching, selling, organizing the shop or memorizing bike catalogues you'll find him out hunting for a new King of Mountain on Strava or clearing local trails with his furry friend Finn.
Russ' top local trail: Vapour-Connector-Rocky Screech - Crawford
Russ' top 3 trails in BC: Dark Crystal - Whistler
Ultimate Frisbee DH - Revelstoke
Rupert - Squamish
Lucas Lozeron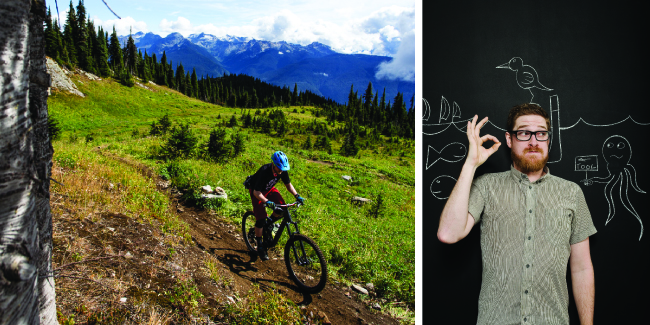 Lucas came to Sovereign via Strathmore, Alberta and he's a bike guy through and through. If you're looking for an expert on bike fit and set-up, he's your man - as a grad of the United Bicycle Institute frame building course in Ashland, Oregon, you can be sure of that. Lucas is also a graduate of the UBI bicycle maintenance course. You'll know him the second you walk in the door either by his devious smile, infectious laugh or his ginger beard.
Lucas' top local trail: Smith Creek-Huck To Flat - Smith Creek
Lucas' top 3 trails in BC: Martha Creek - Martha Creek Revelstoke
Frisby Ridge - Revelstoke
Ladies Only - Mt. Fromme North Vancouver
Anthony Evans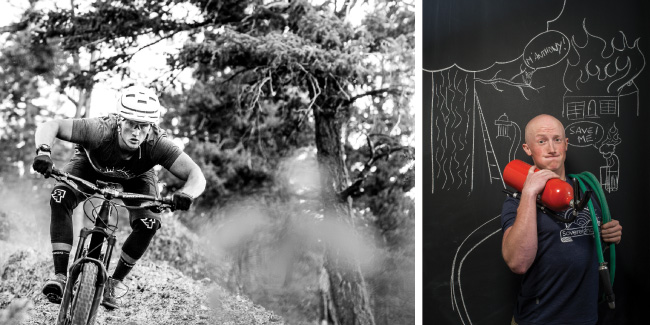 A West-side local, Anthony grew up in Peachland and naturally gravitated toward punishing himself with an Ironman or 4 - before he discovered DH racing. Our resident safety officer and firefighter extraordinaire, he's the first one to offer mouth to mouth when there's an emergency.You can cheer him on at BC Cup DH races all summer long and if you're out east, the Mont St. Anne World Cup DH race in August.
Anthony's top local trail: Soul Trail-Feel The Love-Jump Line - Smith Creek
Anthony's top 3 trails in BC: Crankworx Canadian Open course - Whislter
Canada Cup course - Panorama
Sauce on the Side-Baconator - Lumby
All photography provided by Grant Robinson Photography.