Posted on
By SVRN with Jillian Thatcher
Posted in Ride Diary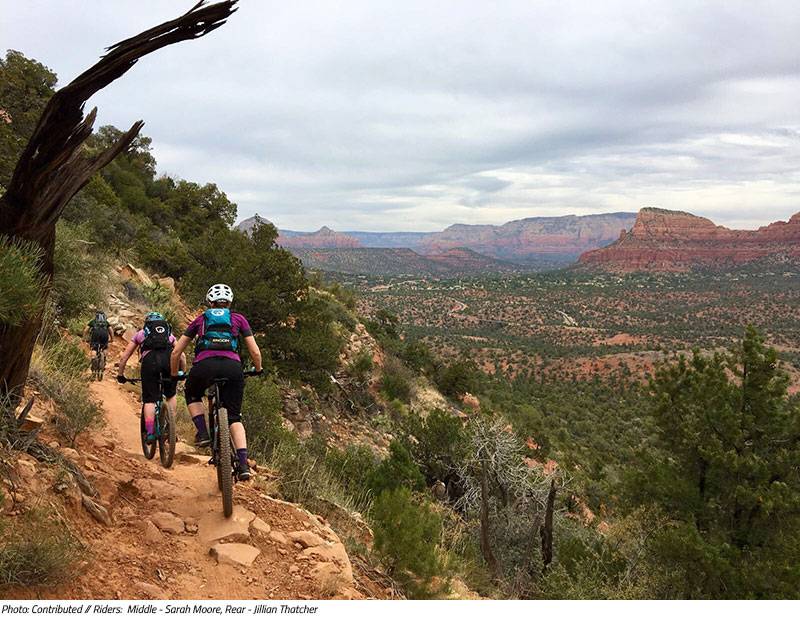 BC, in November - ugh. For many of us, the riding season is coming to a close, but not for ALL of us. Sovereign Cycle team rider Jillian Thatcher got it right. She packed up her bike and headed south. Why? Because it's summer somewhere - Sedona, AZ to be exact! Here's Jill's take on extending the riding season with insight on biking, eating, sleeping, and repeating.
---
With sub-zero temperatures and snow-capped peaks upon us, many Canadian mountain bikers begin the difficult task of cleaning and parking their faithful steeds one last time for the winter months. It's the time of year when many people dust off their skis, snowboards or fat bikes - some will even set up the indoor trainer…ouch!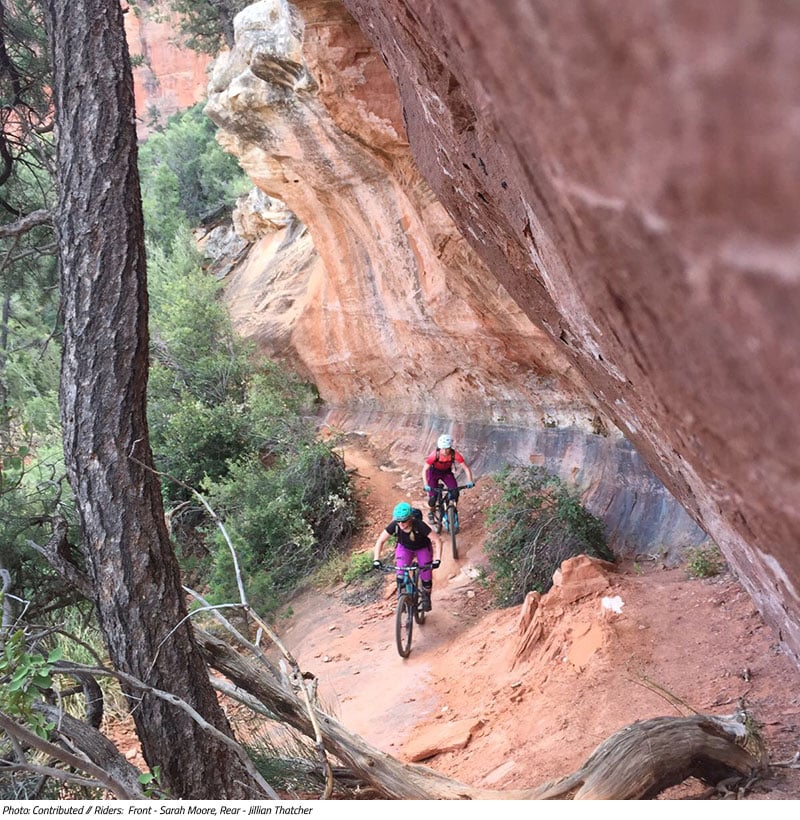 November is a particularly difficult month in the Pacific Northwest, as the weather has changed but hasn't fully transitioned to winter mode… there isn't enough snow on the ground to start skiing or snowboarding. All the while you are stuck not being able to ride your bike, because it is either raining or snowing. It was this time last year that I sat down and said, "next November we are going on a bike trip!" I recommend you do the same.
Sedona, Arizona has often been called a mountain bike mecca, with over 200 miles of single-track trails and stunning red rock views that span for miles. Phoenix, Arizona is a 3 hour direct flight from Vancouver International airport and Sedona is just a short 1.5 hour drive from there. The average temperature in November is 20 degrees and is rarely rains. This sounds like a perfect November getaway!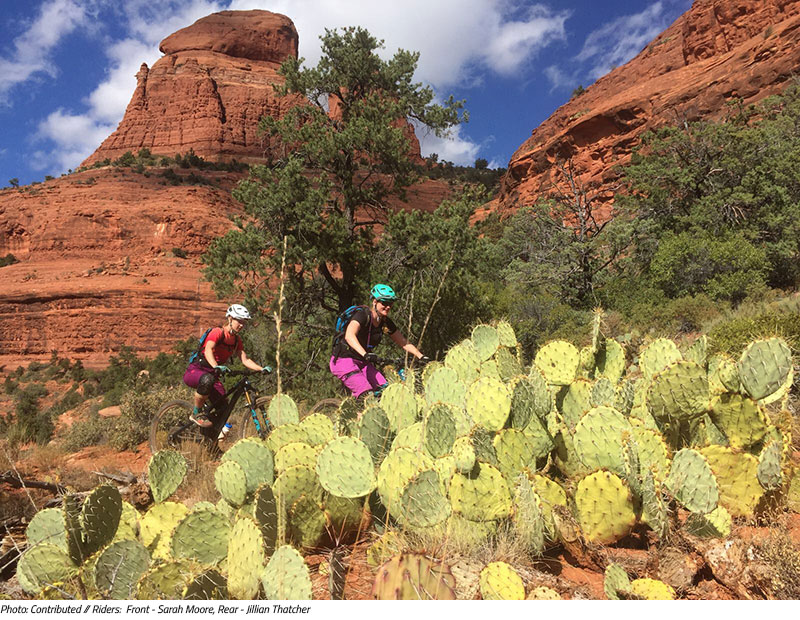 Where to stay
You will come to the town of Oak Creek just before you arrive in Sedona. It is a quiet town and many of the mountain bike trails depart from this area. We decided to stay here where it was much quieter than Sedona itself. Don't expect much nightlife in Sedona, but that's not why you have come anyway. Your days will be filled with biking, eating, sleeping and repeating!
Where to eat
We didn't eat out much, after a busy day of biking we made dinner at the townhouse we rented and relaxed for a few hours. However, there are many culinary options in Sedona with high ratings, so good food won't be hard to find. Be prepared to pay more than you would expect. We found that prices in Sedona were similar to Canadian prices but with the USD exchange rate that increased the price by 25%.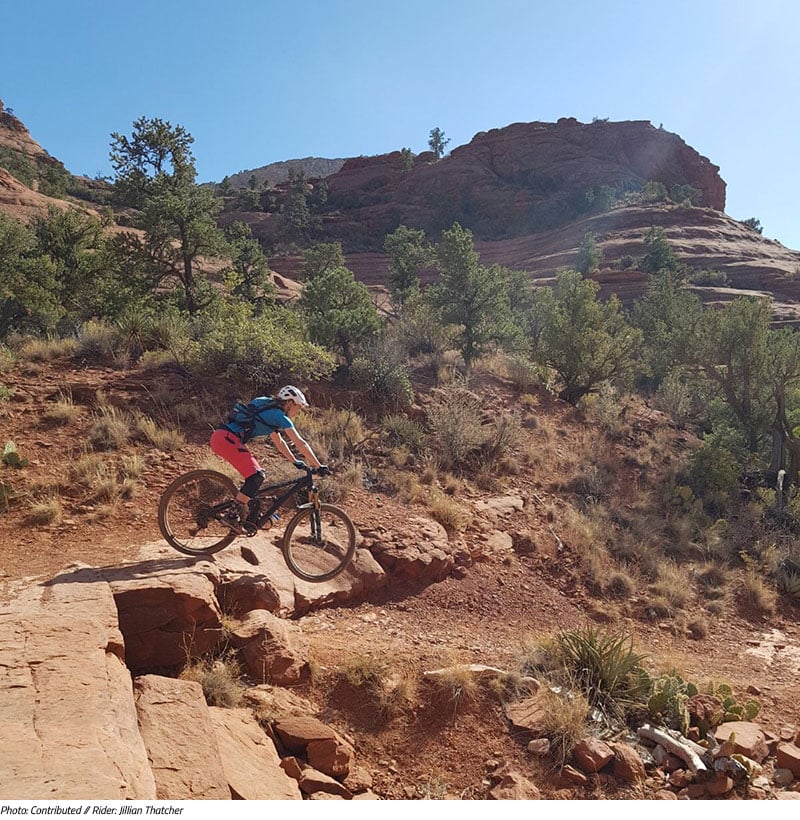 Where to ride
Day 1 Hiline Trail: departing from Oak Creek the 'Hiline' trail is a must-do trail, rated as double black you can expect some technical short climbs with fast high speed sections and steep chutes. The views are incredible, and although we rode this trail around midday, riding it close to sunset would provide a stunning glow from the surrounding red rock.
Day 2 The Hogs: This includes an entire series of 'hog' trails, roughly a 25km loop. The views are again incredible as more singletrack winds through the red rock with technical climbing and descending. As you climb up you will come to 'chicken point' which offers great views and 'Submarine Rock' which is a great place to session the red rock! The most demanding part of this network is 'High on the Hog' and 'Hog Heaven' both have a lot of exposure so you need to be cautious. However, after you have survived riding along the cliff, you can jump onto 'Pigtail' which is a really fast and flowy jump trail! After riding the 'Hogs' you can finish the loop with 'Little Horse' and 'Slim Shady' which are also fast and flowy descent trails.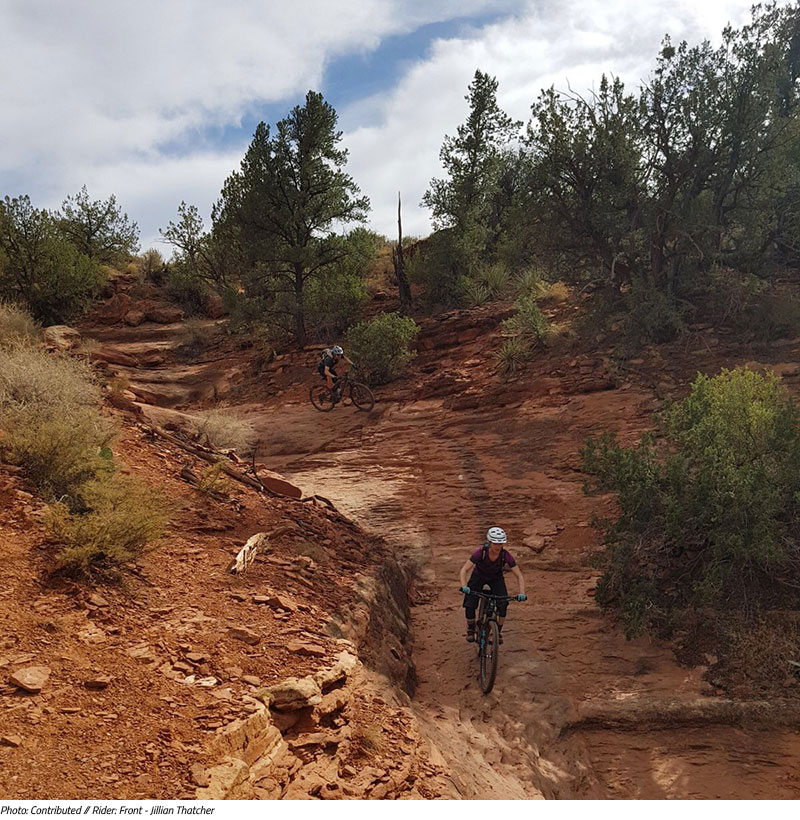 Day 3 (Morning Ride) Hangover Trail: I think if you go to Sedona you should at least attempt to ride the 'Hangover' trail.  I would recommend riding it in the morning when you are fresh and alert! Realistically, there is a good portion of this trail that you may not want to ride, but it's still worth it. This trail features extreme exposure, and runs along massive bands of red rock high up in the sky. Along the way you can expect steep chutes, a few flowy sections and slickrock climbs all while riding on the edge of a cliff...literally. The views are incredible and the main reason why I would go back to ride this trail.
(Afternoon Ride) Scorpion – Pyramid trail network is located in West Sedona. This area is rated as black and offers some really fun, fast descents. We had a lot of fun in this area just relaxing and getting loose after our death-defying morning! 'Scorpion' and 'Pyramid' area a great way to end the day.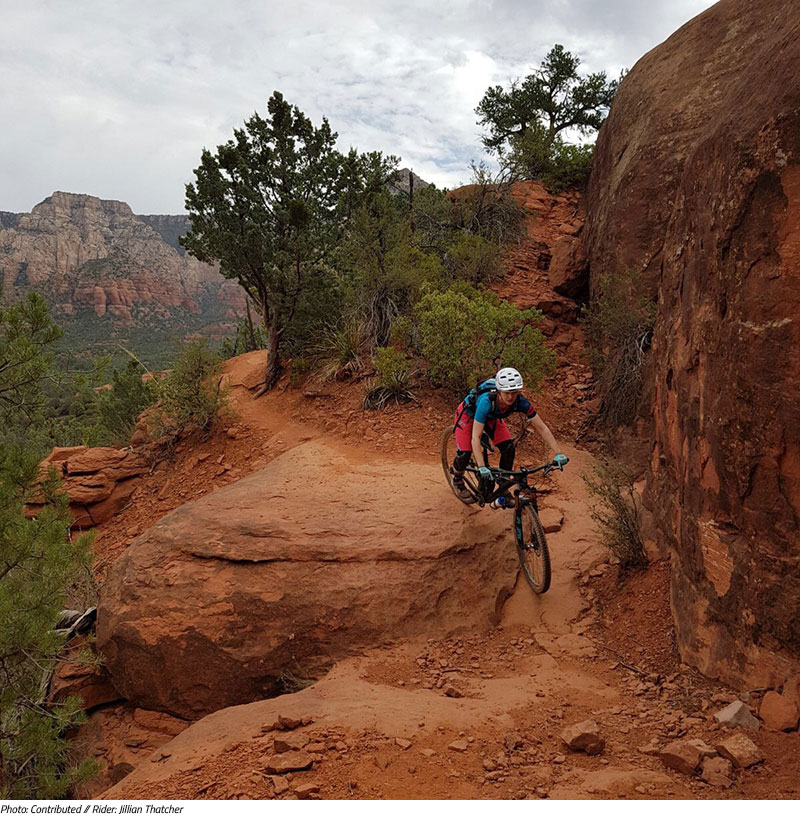 Day 4 Mescal and Chuckwagon: The 'Mescal' trail was one of my favourite trails. Rated as intermediate it is mostly single track with stunning landscapes, and great variety. After Mescal we continued onto 'Chuck Wagon', another flowy single-track trail that winds up and down along the landscape.
Day 5 Soldiers Wash Area, located in West Sedona this network was FUN! 'Adobe Jack', 'Grand Central', 'Javalina' and 'Jordan' are all must-do trails. Make sure you go all the way to the summit of Grand Central for 360-degree views; this area also makes for a great lunch spot. The downhill trail from the summit is a true DH ripper of a trail – flat out! Also check out the massive sinkhole at the top of 'Adobe Jack'
---
Well Jillian, we are convinced! An endless trail network, sun, good food, short flight. Did we say sun?Sedona is now on our list for 2018 ride spots and we're sure we're not alone.
 Looking for the right gear for your next trip? Check out our online store or stop by Sovereign Cycle in Westbank, BC.